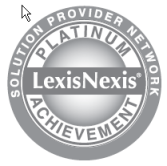 OTB Consulting received two awards at the LexisNexis Practice Management Annual Conference held last month in Dallas, Texas. OTB was recognized as the Top Consulting Firm and for Overall Top Sales.
The Top Consulting Firm award recognized OTB for their contributions to the LexisNexis Practice Management community, as well as to the Certified Independent Consulting (CIC) Community. Although awarded by LexisNexis, OTB is particularly proud that this award was voted on by our peers and colleagues – the entire CIC community.
"It is one of our company's core goals to proactively and positively contribute to the legal practice management community. We believe that "a rising tide floats all boats" and if our CIC community excels so does the entire industry to everyone's benefit. We've been contributing our innovative products, services, methodologies and knowledge to our colleagues for years, and we are honored that they have seen value in what we have shared," said Tom Rowe, Managing Director.
The Overall Sales award is a result of the hard work by many of our staff, but also the LexisNexis sales team, and our clients who understand the value of Time Matters and the other LexisNexis Practice Management products.